06-03-2016, 03:01 PM
(This post was last modified: 06-03-2016 03:49 PM by Her-icane.)
Her-icane
Cat 5


Posts: 1,541
Joined: Jul 2008
Reputation: 2
RE: Gulf action next up?
93L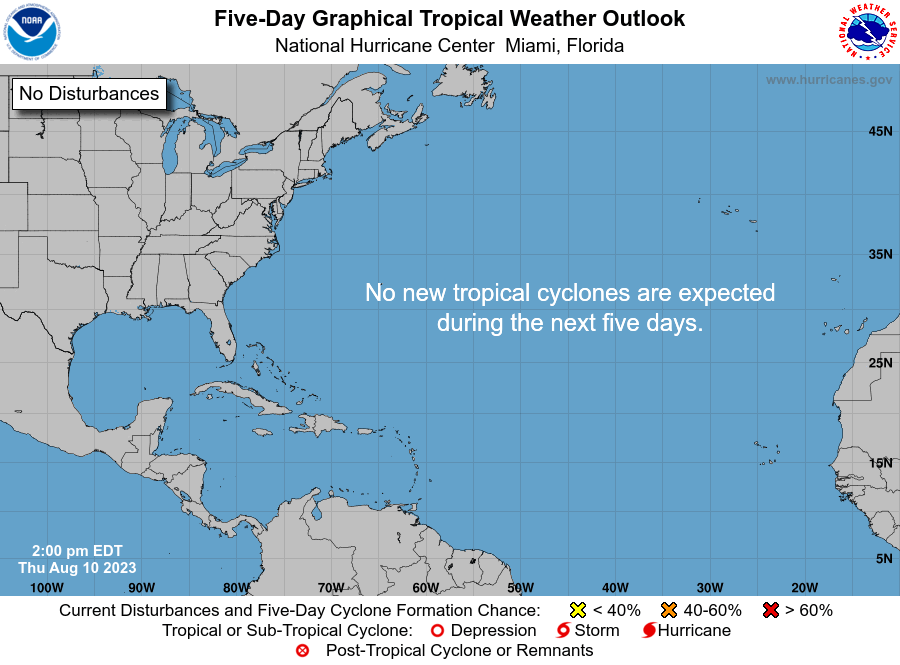 ZCZC MIATWOAT ALL
TTAA00 KNHC DDHHMM
TROPICAL WEATHER OUTLOOK
NWS NATIONAL HURRICANE CENTER MIAMI FL
200 PM EDT FRI JUN 3 2016
For the North Atlantic...Caribbean Sea and the Gulf of Mexico:
The National Hurricane Center is issuing advisories on Tropical
Depression Bonnie, located about 200 miles east-northeast of Cape
Hatteras, North Carolina.
1. A large area of showers and thunderstorms continues over the western
Caribbean Sea. This system is moving west-northwestward toward the
Yucatan Peninsula of Mexico, and a low pressure area is expected to
form over the Yucatan or the adjacent waters over the weekend.
This low could develop into a tropical cyclone as it subsequently
moves across the eastern Gulf of Mexico and the Florida Peninsula
early next week. Regardless of development, locally heavy rains and
flooding are possible over portions of the Yucatan Peninsula,
western Cuba and the Florida Peninsula during the next several days.
* Formation chance through 48 hours...low...
20 percent
* Formation chance through 5 days...medium...
60 percent
Forecaster Beven
---
JM
Quote:

Tropical Storm Possible in the Gulf of Mexico by Monday






By:Jeff Masters and Bob Henson , 4:12 PM GMT on June 03, 2016





[/url] [url=undefined] [/url] [url=undefined]
A concentrated area of heavy thunderstorms has developed over the Western Caribbean, and this system has the potential for development into a tropical depression on Sunday or Monday. Wind shear was a high 30 knots on Friday morning over the region. This high shear will prevent development until Saturday at the earliest as the disturbance heads west-northwest towards Mexico's Yucatan Peninsula. On Saturday and Sunday, shear will drop and an area of low pressure will form over the waters of the Gulf of Mexico and Western Caribbean near the Yucatan Peninsula. This low and its associated moisture will ride up to the north-northeast into the southern Gulf of Mexico on Sunday under the steering influence of a large trough of low pressure that will move over the central Gulf of Mexico. Our three top models for predicting tropical cyclone genesis--the GFS, European, and UKMET models--all showed a tropical depression or tropical storm developing by Monday and making landfall on the west coast of Florida north of Tampa on Tuesday morning.

There will be some high wind shear and dry air over the central Gulf of Mexico early next week in association with the upper-level trough of low pressure there, and these conditions will likely interfere with development, making intensification into a hurricane unlikely

. Regardless of development, heavy rains will be the main threat from this system, and 2 - 7" of rain can be expected over much of Florida during the period Monday - Tuesday. In their 8 am EDT Friday Tropical Weather Outlook, NHC gave 2-day and 5-day odds of development of 10% and 60%, respectively. Should this system get a name, it would be Colin. Hurricane Hunters are now scheduled to investigate the Northwest Caribbean disturbance on Saturday afternoon.




Figure 1.

Predicted precipitation for the 5-day period ending 8 am Wednesday, June 8, 2016. A tropical disturbance is predicted to bring rainfall amounts of 2 - 7" inches to most of Florida, with most of the rain falling Monday and Tuesday. Image credit: National Weather Service.
User(s) browsing this thread: 1 Guest(s)