08-12-2013, 10:55 PM
Alabamaboy
Cat 5


Posts: 2,616
Joined: Dec 2004
Reputation: 0
92L
Recon
Quote:000
NOUS42 KNHC 121412
REPRPD
WEATHER RECONNAISSANCE FLIGHTS
CARCAH, NATIONAL HURRICANE CENTER, MIAMI, FL.
1015 AM EDT MON 12 AUGUST 2013
SUBJECT: TROPICAL CYCLONE PLAN OF THE DAY (TCPOD)
VALID 13/1100Z TO 14/1100Z AUGUST 2013
TCPOD NUMBER.....13-073

I. ATLANTIC REQUIREMENTS
1. SUSPECT AREA -- WESTERN CARIBBEAN
FLIGHT ONE -- TEAL 70
A. 13/2100Z
B. AFXXX 01BBA INVEST
C. 13/1645Z
D. 12.0N 82.5W
E. 13/2030Z TO 13/2300Z
F. SFC TO 10,000 FT
2. OUTLOOK FOR SUCCEEDING DAY.....NEGATIVE.

II. PACIFIC REQUIREMENTS
1. NEGATIVE RECONNAISSANCE REQUIREMENTS.
2. SUCCEEDING DAY OUTLOOK.....NEGATIVE.
---
Retired from ASA now for some real flying
08-13-2013, 06:04 AM
ROLLTIDE
Administrator


Posts: 71,640
Joined: Apr 2004
Reputation: 10
92L
---
Twitter updates we will follow you back
http://twitter.com/Hardcoreweather
Now on Facebook We will like you back

http://www.facebook.com/pages/Hardcorewe...466?v=wall
08-13-2013, 06:04 AM
ROLLTIDE
Administrator


Posts: 71,640
Joined: Apr 2004
Reputation: 10
92L
...
Quote:Mobile NWS this morning

LONG TERM (WEDNESDAY THROUGH TUESDAY)...BROAD UPPER LEVEL TROUGH
WILL DEEPEN OVER THE EASTERN STATES AS AN UPPER RIDGE BUILDS OVER
THE SOUTHWEST WEDNESDAY INTO THURSDAY. THE LOWERING HEIGHTS COMBINED
WITH PLENTIFUL DEEP LAYER MOISTURE (PW VALUES OF 2.1 TO 2.3 INCHES)
WILL ALLOW CONVECTION TO EASILY DEVELOP WITH DAYTIME HEATING...WITH
SCATTERED TO NUMEROUS COVERAGES BOTH DAYS. LOCALLY HEAVY RAINFALL
AMOUNTS WILL AGAIN BE THE PRIMARY THREAT. ABOVE NORMAL RAIN CHANCES
CONTINUE ON FRIDAY AS ADDITIONAL DISTURBANCES MOVE THROUGH THE UPPER
TROUGH WITH THE HIGHEST RAIN CHANCES EXPECTED OVER EASTERN AREAS.
THE GFS CONTINUES TO DEVELOP A WEAK AREA OF LOW PRESSURE OVER THE
SOUTHERN GULF WHICH IS DRAWN NORTHWARD BY THE TROUGH INTO THE
FLORIDA PANHANDLE OVER THE WEEKEND. MEANWHILE...THE ECMWF CONTINUES
TO NOT DEVELOP A SFC LOW. DUE THE UNCERTAINTY...WILL MAINTAIN
SCATTERED POPS THROUGH THE END OF THE PERIOD. HIGHS WILL GENERALLY
BE IN THE UPPER 80S AND LOW 90S THROUGH THE EXTENDED.
---
Twitter updates we will follow you back
http://twitter.com/Hardcoreweather
Now on Facebook We will like you back

http://www.facebook.com/pages/Hardcorewe...466?v=wall
08-13-2013, 06:40 AM
ROLLTIDE
Administrator


Posts: 71,640
Joined: Apr 2004
Reputation: 10
92L
---
Twitter updates we will follow you back
http://twitter.com/Hardcoreweather
Now on Facebook We will like you back

http://www.facebook.com/pages/Hardcorewe...466?v=wall
08-13-2013, 07:11 AM
ROLLTIDE
Administrator


Posts: 71,640
Joined: Apr 2004
Reputation: 10
92L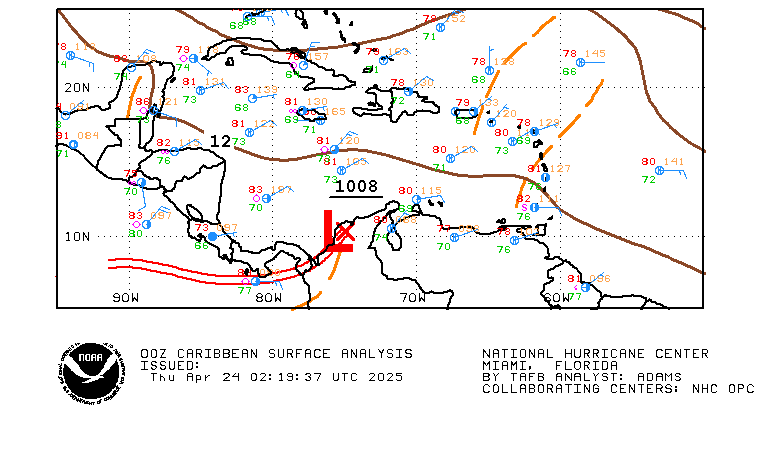 ---
Twitter updates we will follow you back
http://twitter.com/Hardcoreweather
Now on Facebook We will like you back

http://www.facebook.com/pages/Hardcorewe...466?v=wall
08-13-2013, 07:15 AM
Joe-Nathan
Expert Kool-Aid Drinker


Posts: 8,394
Joined: Aug 2008
Reputation: 5
92L
FROM IMPACT WX:
Disturbance 33 Advisory 4
Issued: Tuesday, August 13th 2013 6:11am CDT
Quote:Current Position: 16.0N / 77.4W
Geographic Reference: 695 miles east-southeast of Cozumel, Mexico
Movement: West-northwest at 17 mph
Organizational Trend: Steady
Chance of Development Within 48 hours: 20 percent
Chance of Development Within 120 hours: 60 percent

Changes From Our Previous Forecast
The chance of development within 48 hours has been increased from 10 to 20 percent because two of the models indicate it could become a depression within the next 48 hours and because environmental conditions are expected to become more favorable. We now think that a landfall near the Alabama coast or the western Florida Panhandle would occur sooner - during the day on Saturday.

Our Forecast
The American Model and the European Model (typically two of the most reliable models) are not indicating much development with Disturbance 33. Those two models have been indicating a strong disturbance to a tropical depression at most. Two other models (the Canadian model and the U.S. Navy Model) indicate strengthening to a tropical storm in the central Gulf of Mexico, followed by a turn to the north-northeast, which would bring the system inland in the vicinity of the western Florida Panhandle on Saturday. Although wind shear is currently high over the Caribbean, wind shear is expected to decrease significantly over the western Caribbean and Gulf of Mexico over the next 48 hours. We are holding development chances at 60 percent for this advisory because we believe the environmental conditions will be favorable for development in the southern Gulf of Mexico.

The track remains highly uncertain. The European Model insists on taking Disturbance 33 into the Bay of Campeche as a weak system, whereas the other models take it northward toward the coasts of Alabama and the western Florida Panhandle. Despite the differences, the majority of the models has not changed significantly from yesterday. We think that steering currents should carry it to the north with a gradual turn to the north-northeast. Westerly upper level winds across Texas are expected to keep the system away from the Texas coast. Landfall would most likely occur somewhere between Mississippi and the Florida Panhandle during the day on Saturday.

While environmental conditions across the Gulf of Mexico will be favorable for slow development, conditions do not appear to be favorable for a large storm to develop. We think that this storm would be small to average-sized. Though none of the computer models is indicating that this system will become a hurricane, that remains something we cannot rule completely out. We estimate the chance of Disturbance 33 becoming a hurricane in the Gulf of Mexico to be about 10 percent.

Squalls associated with the system could reach the deepwater areas off the southeast Louisiana and Mississippi coasts as early as Friday morning. The weather across the northern Gulf in advance of the system will be good for possible evacuations through Thursday.

Expected Impacts Onshore
Cayman Islands, Yucatan Peninsula: 2 to 4 inches of rain is likely during the middle part of this week due to enhanced showers and thunderstorms associated with Disturbance 33.
North Gulf Coast (southeast LA/MS/AL/FL Panhandle): The first squalls could move ashore as early as late Friday evening.

Expected Impacts Offshore
Northern Gulf of Mexico: The last full day of safe helicopter operations is expected to be Thursday. Squalls from the disturbance are likely to reach the deepwater lease areas offshore eastern Louisiana and Mississippi around Friday morning.

The next advisory will be issued by 3 PM CDT.

Meteorologist: Andrew Hagen


Forecast Hour
Valid Lat Lon Max Winds Max Gusts Classification
0
6AM CDT Tue Aug 13 16.00N 77.40W 20kts 30kts Tropical Disturbance
24
6AM CDT Wed Aug 14 18.00N 83.20W 20kts 30kts Tropical Disturbance
48
6AM CDT Thu Aug 15 21.00N 87.00W 25kts 35kts Tropical Disturbance
72
6AM CDT Fri Aug 16 24.40N 89.00W 30kts 40kts Tropical Disturbance
96
6AM CDT Sat Aug 17 28.40N 88.20W 30kts 40kts Tropical Disturbance
120
6AM CDT Sun Aug 18 33.40N 84.50W 30kts 40kts Tropical Disturbance
---
Trained Weather Spotter
CoCoRaHS Volunteer
https://www.instagram.com/bostickjm
https://twitter.com/BostickJM
http://www.livechasers.com/JonathanBostick
08-13-2013, 07:44 AM
ROLLTIDE
Administrator


Posts: 71,640
Joined: Apr 2004
Reputation: 10
92L
---
Twitter updates we will follow you back
http://twitter.com/Hardcoreweather
Now on Facebook We will like you back

http://www.facebook.com/pages/Hardcorewe...466?v=wall
08-13-2013, 11:46 AM
ROLLTIDE
Administrator


Posts: 71,640
Joined: Apr 2004
Reputation: 10
92L
Do we have an invest yet?


Sent from my iPhone using Tapatalk
---
Twitter updates we will follow you back
http://twitter.com/Hardcoreweather
Now on Facebook We will like you back

http://www.facebook.com/pages/Hardcorewe...466?v=wall
08-13-2013, 12:26 PM
vampgrrl
Cat 4


Posts: 559
Joined: Sep 2005
Reputation: 0
92L
Pattern is full
User(s) browsing this thread: 1 Guest(s)