01-13-2016, 04:03 PM
Alex
Super Moderator


Posts: 2,255
Joined: Apr 2004
Reputation: 2
Subtropical Storm Alex
Waste of my name!
Quote:BULLETIN
SUBTROPICAL STORM ALEX ADVISORY NUMBER 1
NWS NATIONAL HURRICANE CENTER MIAMI FL AL012016
500 PM AST WED JAN 13 2016

...OUT OF SEASON SUBTROPICAL STORM FORMS OVER THE FAR EASTERN
ATLANTIC...


SUMMARY OF 500 PM AST...2100 UTC...INFORMATION
----------------------------------------------
LOCATION...27.1N 30.8W
ABOUT 785 MI...1260 KM SSW OF THE AZORES
MAXIMUM SUSTAINED WINDS...50 MPH...85 KM/H
PRESENT MOVEMENT...NE OR 55 DEGREES AT 14 MPH...22 KM/H
MINIMUM CENTRAL PRESSURE...990 MB...29.24 INCHES


WATCHES AND WARNINGS
--------------------
Interests in the Azores should monitor the progress of Alex.


DISCUSSION AND 48-HOUR OUTLOOK
------------------------------
Satellite images indicate that the low pressure system over the
eastern Atlantic has developed into a subtropical storm.
At 500 PM AST (2100 UTC), the center of Subtropical Storm Alex was
located near latitude 27.1 North, longitude 30.8 West. The storm is
moving toward the northeast near 14 mph (22 km/h), and a turn
toward the north with an increase in forward speed is expected over
the next 48 hours.

Maximum sustained winds are near 50 mph (85 km/h) with higher gusts.
Little change in strength is forecast during the next 48 hours, and
Alex is expected to become an extratopical cyclone before reaching
the Azores on Friday.

Winds of 40 mph extend outward up to 140 miles (220 km) from the
center.

The estimated minimum central pressure is 990 mb (29.24 inches).
---
AARoads
01-13-2016, 04:14 PM
RE: Subtropical Storm Alex
Well, this could make for a long and exciting 2016! HAPPY NEW YEAR!!!!!!!

I though El Nino was supposed to decrease Atlantic hurricane activity?
---
Quis custodiet ipsos custodes?

"Don't believe them, don't fear them, don't ask anything of them." ~Alexander Solzhenitsyn


01-14-2016, 10:14 AM
Tailwind
Cat 3


Posts: 59
Joined: Jun 2005
Reputation: 0
RE: Subtropical Storm Alex
We now have a hurricane......




000
WTNT31 KNHC 141433
TCPAT1

BULLETIN
HURRICANE ALEX ADVISORY NUMBER 4
NWS NATIONAL HURRICANE CENTER MIAMI FL AL012016
1100 AM AST THU JAN 14 2016

...ALEX BECOMES A HURRICANE...
...HURRICANE WARNING ISSUED FOR THE AZORES...


SUMMARY OF 1100 AM AST...1500 UTC...INFORMATION
-----------------------------------------------
LOCATION...31.5N 28.4W
ABOUT 490 MI...790 KM S OF FAIAL ISLAND IN THE CENTRAL AZORES
MAXIMUM SUSTAINED WINDS...85 MPH...140 KM/H
PRESENT MOVEMENT...NNE OR 20 DEGREES AT 20 MPH...31 KM/H
MINIMUM CENTRAL PRESSURE...981 MB...28.97 INCHES


WATCHES AND WARNINGS
--------------------
CHANGES WITH THIS ADVISORY:

The Azores Meteorological Service has issued a Hurricane Warning
for the islands of Faial, Pico, Sao Jorge, Graciosa, and Terceira in
the central Azores, and a Tropical Storm Warning for the islands
of Sao Miguel and Santa Maria in the eastern Azores.

SUMMARY OF WATCHES AND WARNINGS IN EFFECT:

A Hurricane Warning is in effect for...
* Faial, Pico, Sao Jorge, Graciosa, and Terceira in the central
Azores

A Tropical Storm Warning is in effect for...
* Sao Miguel and Santa Maria in the eastern Azores

For storm information specific to your area, please monitor
products issued by your national meteorological service.


DISCUSSION AND 48-HOUR OUTLOOK
------------------------------
At 1100 AM AST (1500 UTC), the center of Hurricane Alex was located
near latitude 31.5 North, longitude 28.4 West. Alex is moving toward
the north-northeast near 20 mph (31 km/h) and a turn toward the
north with an increase in forward speed is expected over the next
day or two. On the forecast track, the center of Alex will move
near or over portions of the Azores Friday morning.

Maximum sustained winds are near 85 mph (140 km/h) with higher
gusts. Little change in strength is forecast through Friday.

Hurricane force winds extend outward up to 25 miles (35 km) from the
center and tropical storm force winds extend outward up to 150 miles
(240 km).

The estimated minimum central pressure is 981 mb (28.97 inches).


HAZARDS AFFECTING LAND
----------------------
WIND: Tropical-storm-force winds are expected to begin over
portions of the Azores tonight. Hurricane conditions are expected
to spread over the central Azores by early Friday.

Wind speeds atop and on the windward sides of hills and mountains
are often up to 30 percent stronger than the near-surface
winds indicated in this advisory, and in some elevated locations
could be even greater.

RAINFALL: Alex is expected to produce total rain accumulations of
3 to 5 inches over the Azores through Friday, with possible
isolated maximum amounts of 7 inches. These rains could produce
life-threatening flash floods and mud slides.

STORM SURGE: A dangerous storm surge is expected to produce
significant coastal flooding near and to the east of the center of
Alex. Near the coast, the surge will be accompanied by large and
destructive waves.


NEXT ADVISORY
-------------
Next intermediate advisory at 200 PM AST.
Next complete advisory at 500 PM AST.

$$
Forecaster Pasch
01-14-2016, 10:17 AM
(This post was last modified: 01-14-2016 10:18 AM by Batt2fd.)
Batt2fd
Cat 5


Posts: 863
Joined: Aug 2006
Reputation: 3
RE: Subtropical Storm Alex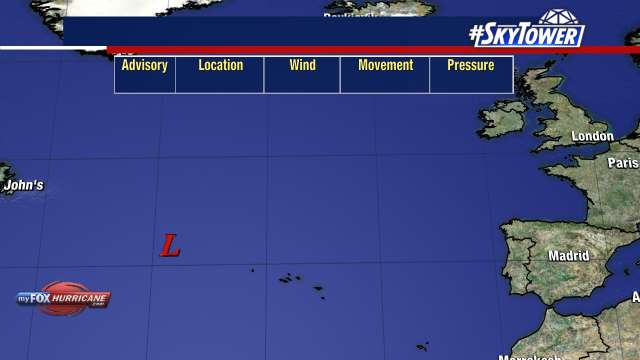 ---
www.MyFloridaHurricane.Info
01-14-2016, 11:34 AM
ROLLTIDE
Administrator


Posts: 71,640
Joined: Apr 2004
Reputation: 10
RE: Subtropical Storm Alex
---
Twitter updates we will follow you back
http://twitter.com/Hardcoreweather
Now on Facebook We will like you back

http://www.facebook.com/pages/Hardcorewe...466?v=wall
User(s) browsing this thread: 1 Guest(s)