10-04-2017, 03:53 PM
ROLLTIDE
Administrator


Posts: 71,640
Joined: Apr 2004
Reputation: 10
RE: T.D.#16
000
WTNT41 KNHC 042051
TCDAT1

Tropical Depression Sixteen Discussion Number 2
NWS National Hurricane Center Miami FL AL162017
500 PM EDT Wed Oct 04 2017

Visible satellite images show that the depression has lots of
curved bands, although it is somewhat lacking any inner core
features. An Air Force Reserve Hurricane Hunter flew into the
depression this afternoon and found a well-defined circulation, with
maximum flight-level winds of 37 kt and SFMR values around 30 kt.
These data support keeping the intensity at 30 kt for this advisory.

Environmental conditions look quite favorable for strengthening over
the next few days, with low shear and very warm and deep water in
the path of the cyclone. The various rapid intensification indices
are all higher than the last cycle, suggesting an increasing chance
of rapid intensification occurring. The fly in the ointment,
however, is all of the potential land interaction, first over
Central America and then possibly over the Yucatan Peninsula. As
a compromise, the intensity forecast is raised considerably from the
previous one during the first 3 days, but is still below some
guidance, such as the HWRF.

The depression continues to move slowly northwestward, steered by a
distant ridge over the southwestern Atlantic. However the steering
pattern is forecast to change quickly tomorrow as a mid-tropospheric
trough over the Florida Straits moves across the northwestern
Caribbean into the southwestern Gulf of Mexico. Southerly flow on
the eastern side of that trough should cause the cyclone to move
much faster to the north-northwest by Friday and northward into the
Gulf of Mexico on Saturday. While there is some agreement on the
synoptic pattern, the model track agreement is rather poor, even in
the short term, with the GFS and ECMWF being 90 miles apart on the
forecast track as soon as 24 hours out. This has profound
differences down the road, with the GFS-based guidance moving
considerably faster and to the left of the ECMWF and UKMET across
the Gulf of Mexico. Overall, the guidance has generally shifted a
bit westward since the last cycle, so the latest points in the long
range have been adjusted in that direction. At this point, I
wouldn't focus too much attention on the details of the long-range
forecast until the guidance comes into better agreement. A G-IV
mission and Florida special soundings have been set up for tomorrow
to better determine the synoptic steering flow around the cyclone.

KEY MESSAGES:

1. The depression is forecast to strengthen and bring tropical storm
conditions to portions of Nicaragua and Honduras tonight through
Friday. Heavy rainfall could produce life-threatening flash
flooding and mud slides in portions of Nicaragua, Honduras, Costa
Rica, and Panama through Friday night.

2. The system is expected to be near hurricane intensity when it
approaches the Yucatan Peninsula late Friday or Saturday, bringing
direct impacts from wind, storm surge, and heavy rainfall. A
hurricane watch could be issued for this area later this evening.

3. The system is forecast to continue strengthening over the Gulf of
Mexico and could affect portions of the northern Gulf Coast as a
hurricane this weekend, with direct impacts from wind, storm surge,
and heavy rainfall. However, it is too early to specify the timing,
location, or magnitude of these impacts. Residents along the Gulf
Coast from Louisiana to Florida should monitor the progress of this
system for the next several days and heed any advice given by local
officials.


FORECAST POSITIONS AND MAX WINDS

INIT 04/2100Z 12.5N 82.5W 30 KT 35 MPH
12H 05/0600Z 13.2N 83.1W 40 KT 45 MPH
24H 05/1800Z 14.6N 83.8W 40 KT 45 MPH...INLAND
36H 06/0600Z 16.7N 84.6W 50 KT 60 MPH
48H 06/1800Z 19.5N 85.8W 60 KT 70 MPH
72H 07/1800Z 25.0N 88.0W 75 KT 85 MPH
96H 08/1800Z 30.5N 86.0W 65 KT 75 MPH...INLAND
120H 09/1800Z 35.5N 82.0W 30 KT 35 MPH...POST-TROP/INLAND

$$
Forecaster Blake
---
Twitter updates we will follow you back
http://twitter.com/Hardcoreweather
Now on Facebook We will like you back

http://www.facebook.com/pages/Hardcorewe...466?v=wall
10-04-2017, 03:59 PM
ROLLTIDE
Administrator


Posts: 71,640
Joined: Apr 2004
Reputation: 10
RE: T.D.#16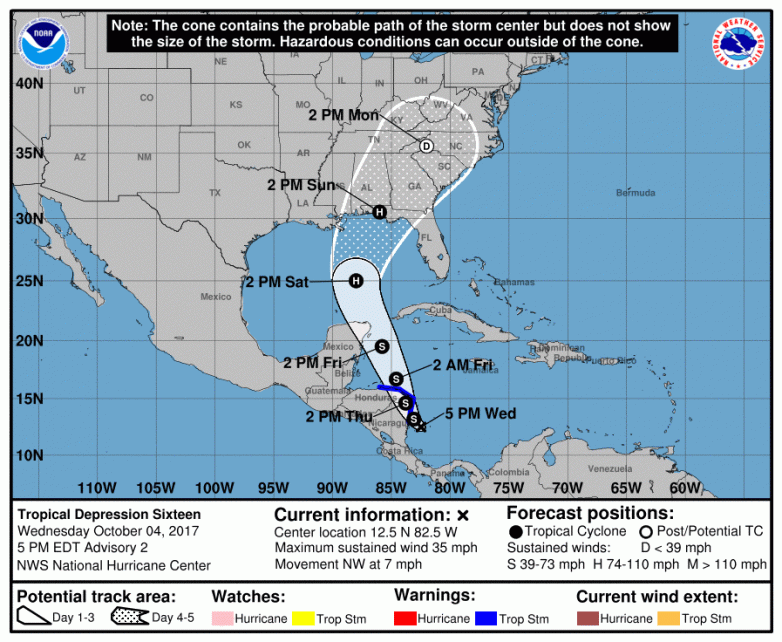 ---
Twitter updates we will follow you back
http://twitter.com/Hardcoreweather
Now on Facebook We will like you back

http://www.facebook.com/pages/Hardcorewe...466?v=wall
10-04-2017, 04:30 PM
RE: T.D.#16
---
Quis custodiet ipsos custodes?

"Don't believe them, don't fear them, don't ask anything of them." ~Alexander Solzhenitsyn


10-04-2017, 08:05 PM
ROLLTIDE
Administrator


Posts: 71,640
Joined: Apr 2004
Reputation: 10
RE: T.D.#16
models shifting well west now
---
Twitter updates we will follow you back
http://twitter.com/Hardcoreweather
Now on Facebook We will like you back

http://www.facebook.com/pages/Hardcorewe...466?v=wall
10-04-2017, 09:04 PM
brentwpb
Cat 3


Posts: 164
Joined: Jul 2010
Reputation: 0
RE: T.D.#16
10-04-2017, 10:03 PM
ROLLTIDE
Administrator


Posts: 71,640
Joined: Apr 2004
Reputation: 10
RE: T.D.#16
000
WTNT41 KNHC 050248
TCDAT1

Tropical Depression Sixteen Discussion Number 3
NWS National Hurricane Center Miami FL AL162017
1100 PM EDT Wed Oct 04 2017

There have been some structural changes to the depression during
the past few hours. Inner-core convection began developing just
after the issuance of the previous advisory, and Colombian radar
images from San Andres are now showing a well-defined convective
band to the east and southeast of the center. Despite these
changes, Dvorak satellite estimates remain T2.0 from TAFB and SAB,
so the initial intensity is held at 30 kt.

The depression probably only has another 12 hours or so before its
center moves inland over northeastern Nicaragua, but it is still
expected to reach tropical storm strength before that happens.
Once the center re-emerges over the waters of the northwestern
Caribbean Sea a little after 24 hours from now, high oceanic heat
content and low shear should contribute to strengthening. Despite
these favorable conditions, the amount of strengthening will be
unclear until we know how well the inner core survives crossing over
Nicaragua and Honduras. Strengthening is likely to continue
through at least day 3 up until the time the cyclone reaches the
central Gulf of Mexico. After day 3, there are some indications
that higher shear and/or cooler shelf waters over the northern Gulf
of Mexico could lead to some weakening, but that scenario is by no
means a definite one at this time. Needless to say, there continues
to be greater-than-normal uncertainty in the intensity forecast.
The updated NHC intensity forecast has been adjusted downward just
a bit through day 3 to follow an overall shift in the guidance,
although it should be noted that the official forecast still lies
above the normally skillful HCCA model.

If the intensity forecast is complex, the track forecast is not
much easier. For the first 48 hours, the models appear split on
how the depression will interact with a disturbance currently
located near the Straits of Florida. For example, the ECMWF model
shows some interaction with the disturbance's low-level vorticity,
which swings the depression more to the east on the right side of
the guidance envelope. The GFS, on the other hand, shows no such
interaction and has the cyclone on the western side of the guidance
envelope. This setup has significant downstream effects after 48
hours because it keeps the ECMWF on an eastern route and the GFS on
a western route as the cyclone heads toward the U.S. Gulf coast.
The new NHC track forecast has been shifted slightly westward,
although it is still not as far west as the consensus aids or the
HCCA model. Interestingly, although the ECMWF ensemble mean is
close to the operational run on the eastern side of the guidance
envelope, there is a high density of members to the left close to
the consensus aids, which lends additional support for the westward
adjustment.

A G-IV mission and Florida special soundings will begin tomorrow to
better determine the synoptic steering flow around the cyclone.


KEY MESSAGES:

1. The depression is forecast to strengthen and bring tropical storm
conditions to portions of Nicaragua and Honduras through early
Friday. Heavy rainfall could produce life-threatening flash
flooding and mud slides in portions of Nicaragua, Honduras, Costa
Rica, and Panama through Friday night.

2. The system could be near hurricane intensity when it approaches
the Yucatan Peninsula late Friday or Saturday, bringing direct
impacts from wind, storm surge, and heavy rainfall, and a hurricane
watch has been issued for a portion of this area.

3. The system is forecast to continue strengthening over the Gulf of
Mexico and could affect portions of the northern Gulf Coast as a
hurricane this weekend, with direct impacts from wind, storm surge,
and heavy rainfall. However, it is too early to specify the timing,
location, or magnitude of these impacts. Residents along the Gulf
Coast from Louisiana to Florida should monitor the progress of this
system for the next several days and heed any advice given by local
officials.


FORECAST POSITIONS AND MAX WINDS

INIT 05/0300Z 12.8N 82.7W 30 KT 35 MPH
12H 05/1200Z 13.5N 83.2W 35 KT 40 MPH
24H 06/0000Z 15.1N 83.7W 35 KT 40 MPH...INLAND
36H 06/1200Z 17.6N 84.7W 45 KT 50 MPH
48H 07/0000Z 20.2N 86.3W 55 KT 65 MPH
72H 08/0000Z 25.5N 88.6W 70 KT 80 MPH
96H 09/0000Z 30.5N 87.0W 65 KT 75 MPH...INLAND
120H 10/0000Z 36.5N 82.5W 30 KT 35 MPH...POST-TROP/INLAND

$$
Forecaster Berg
---
Twitter updates we will follow you back
http://twitter.com/Hardcoreweather
Now on Facebook We will like you back

http://www.facebook.com/pages/Hardcorewe...466?v=wall
10-04-2017, 10:04 PM
ROLLTIDE
Administrator


Posts: 71,640
Joined: Apr 2004
Reputation: 10
RE: T.D.#16
---
Twitter updates we will follow you back
http://twitter.com/Hardcoreweather
Now on Facebook We will like you back

http://www.facebook.com/pages/Hardcorewe...466?v=wall
10-05-2017, 12:11 AM
Flametamr
Cat 2


Posts: 32
Joined: Sep 2008
Reputation: 0
RE: T.D.#16
Great Roll wants more site traffic so we get a hurricane in his home town. The bonus is I'm working a 12 hour shift at the airport Sunday night. Should be some nice breezes then.
10-05-2017, 07:01 AM
(This post was last modified: 10-05-2017 07:03 AM by Alex.)
Alex
Super Moderator


Posts: 2,255
Joined: Apr 2004
Reputation: 2
RE: TROPICAL STORM NATE
And now Tropical Storm Nate has formed.
Tropical Storm #Nate Advisory 4A: Tropical Depression Becomes Tropical Storm Nate Near The Coast of Nicaragua. https://t.co/VqHn0uj6EM

— NHC Atlantic Ops (@NHC_Atlantic) October 5, 2017
---
AARoads
User(s) browsing this thread: 2 Guest(s)